Marshall County Strings Spring Concert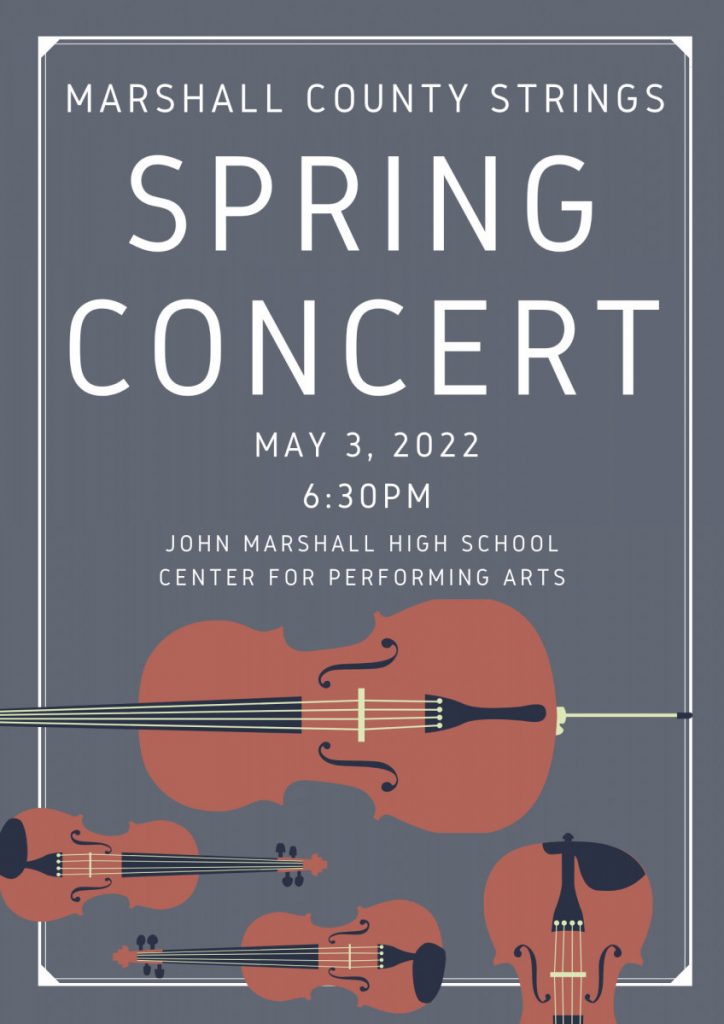 The Marshall County Strings Program will present its annual spring concert on Tuesday, May 3, 2022, at 6:30 pm in the John Marshall High School Center for Performing Arts. This will be the first county-wide string performance by students in grades 4-12 since 2019.
The concert will feature combined performances involving students from Cameron, Center McMechen, Central, Glen Dale, Hilltop, Sand Hill and Washington Lands elementary schools, as well as Cameron, Moundsville and Sherrard middle schools and Cameron and John Marshall High Schools. The concert is free; however, donations will be accepted.
The concert will feature an evening of classical and symphonic music. Elementary selections will include traditional childhood tunes such as Twinkle, Twinkle, Little Star. Middle school students will share three selections including a creative fiddle-style mashup of two famous melodies by Johann Sebastian Bach. High school selections include Primavera, a modern setting of themes Antonio Vivaldi's Spring from The Four Seasons.
A special piece, commissioned by the John Marshall Band and String Programs, in memory of Jim Gracey will premiere. Opening Night, written by award-winning composer Brian Balmages, celebrates the life of Jim who was tragically killed in a car accident his freshman year.
The concert will culminate with a mass orchestra of 270 students in grades 4-12 performing Ludwig Van Beethoven's Ode to Joy.
Additionally, the strings program will present a donation to the Robert James "Jim" Gracey Memorial Scholarship fund. This donation is made possible with funds collected at the strings benefit concert this past February.
Videotaping, audio recording, LIVE streaming or social media posting of this performance is strictly prohibited by law.